This site is designed to help residents (summer and year-round) connect with each other and enjoy life on the lake even more! You will find details about local or lake events and news that may be of interest to residents.
We are sorry to report there has been a mix-up regarding the availability of the Allegan Township Hall. We do not have access to the indoor portion of the hall, as it has been rented for another event (high school open house). The party has setup Friday evening and a party mid-day Saturday. We inquired […]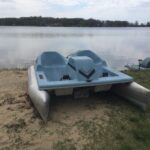 The paddle boat has been claimed. Re-posting just to allow notice, but this article will be set to expire in a few days. Late last fall, a paddle boat was recovered from the East shore of the lake North of the dam (near tip of Lorraine Dr). If this belongs to you, it can […]
Over the past few years, we have tried publishing the meeting minutes and presentations as well as the annual water quality reports to the website, But we have heard from some members that they have been unable to find them. So the help collect the post, we are adding a new page to the site […]
Visit the News Page for all news or use Search.