This site is designed to help residents (summer and year-round) connect with each other and enjoy life on the lake even more! You will find details about local or lake events and news that may be of interest to residents.
At the Fall Association meeting (Sept 3, 2016) Tom Lynch offered access to the cache of documents he has gathered as part of his research and advocacy related to the dam. The link below leads to his Google Drive folder and contains a number of documents for your review. Tom Lynch's Google Drive folder Access […]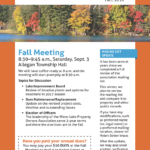 The postcards were sent out earlier, but this is a reminder for anyone who did not receive a postcard. The Fall association meeting is this Saturday, September 3. The meeting is at the Allegan Township hall (3037 118th Ave) and begins at 8:30 a.m. with coffee available around 8:00 a.m. […]
Attached is the full transcript of hearing on August 1, 2016 addressing the revised assessment role for the Miner Lake Dam project. This copy was purchased by Miner Lake Association and is available to members for review. It details the concerns raised by residents and the answers provided by the Drain Commissioner, her attorney and […]
Visit the News Page for all news or use Search.