This site is designed to help residents (summer and year-round) connect with each other and enjoy life on the lake even more! You will find details about local or lake events and news that may be of interest to residents.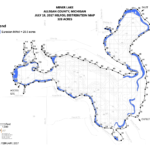 Much like lakes throughout Michigan and the midwest, Miner Lake has experienced the negative effects of invasive plants such as Eurasian Milfoil and Starry Stonewort. Left unchecked, these plants grow more dense and spread to cover additional acreage, choking out native vegetation and impacting normal lake use. Background Through the repeated renewal and funding of […]
In response to the increased prevalence of Gypsy Moth in Michigan, the Allegan Township Board purchased a supply of treatment kits. Residents who have observed Gypsy Moth eggs, caterpillars, or adult moths on their property, should contact the Allegan Township offices (269.673.5051) for a kit. Below are some resources to better understand and identify a […]
We will be sending out postcards, but it appears we will be able to hold our Spring Meeting this year — with a few limitations or modifications. The Spring association meeting will be Saturday, May 29. The meeting is at the Allegan Township hall (3037 118th Ave) and begins at 8:30 a.m. with coffee available […]
Visit the News Page for all news or use Search.